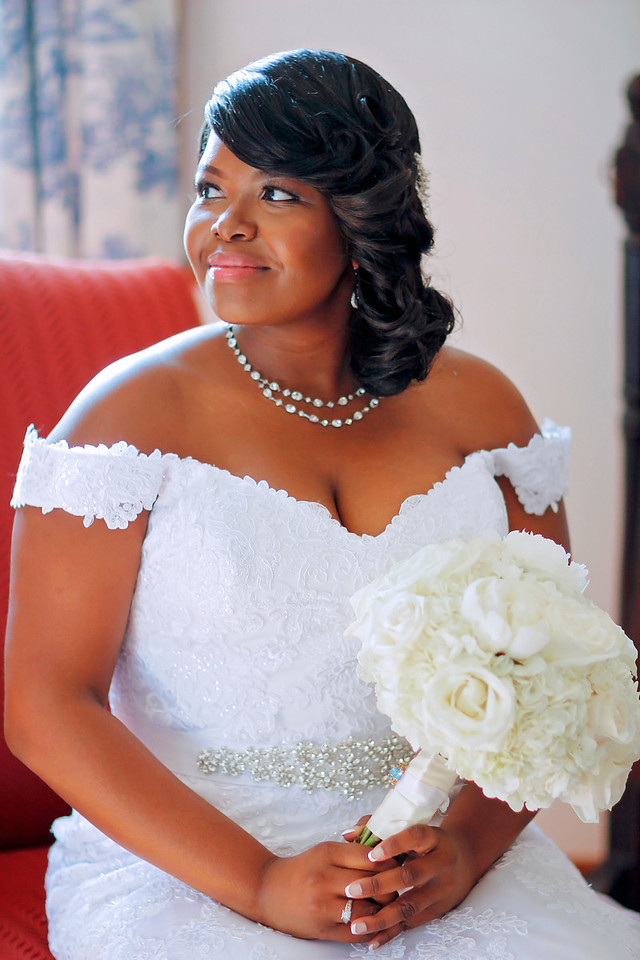 Your wedding day! One of those days and moments you dream about all your life! Ribbons, lace, silk, diamonds, jewels, glitz, glamour. On the other hand, maybe not? Perhaps to you it can simply mean you and your love, together with the most important people in your life. A small, just as beautiful, yet more intimate setting and event. Regardless of HOW you see this special and memorable event in your life there is an even bigger question! How do you see yourself on such a memorable day? How will others see you that day? What is a gorgeous venue, perfectly planned event, immaculately decorated reception, perfect meal preparation, and painstakingly thought out guest list without you? It is YOUR day! You should feel as if you are on top of the world, floating on a cloud, and merely moments away from your dream day becoming reality. For these reasons and so many more, you deserve to look as wonderful as you feel on this day. Ensuring that happens is why it is so important to hire a professional makeup artist. When uncertain, go with a pro! I will share some helpful reasons why below.
B– Budget. Weddings are all about budgeting. From the most simple to elaborate, you are going to spend money and the best way of tracking that is to have a budget. Here is a great thing about hiring a professional Makeup Artist (MUA); we will probably be one of your easiest expenses to figure out in your budget. NO, I am not by any meanings saying we are inexpensive or dare I say "cheap". We are however usually very easy to converse with, provide price quotes, have easy booking guidelines, and discuss clear expectations soon after your initial contact with us. Most of our needs in providing you service lie within the look you desire for yourself/party, the date of your event, and the size of your party. Of course, there are other outlying factors but with a generally easy conversation, we can ensure we are both on the same page. Usually being able to let you know what we can provide and at what price we can provide it to you without any extra stress.
R– Routine. Professional MUAs are just that! Professional! Meaning that we consider this our business and place both pride and priority in it. For that reason, we are familiar with the needs of various types of bridal clients and parties. Not only are we familiar but we have a routine. Hiring your best friend, cousin, or just someone who does their makeup well may be a cheaper option. HOWEVER… your wedding day is not the day you want to allow a makeup "enthusiast" to practice on your face. Everyone has to start somewhere but your wedding day being that platform will honestly add more stress to you as the client and him or her as well. Hiring a professional MUA, helps to assure you stay on schedule with your day and are able to remain stress free and achieve your perfect look for the day.
I– Integrity. Being a professional means that you should operate with morals. This should put you at ease when hiring a makeup artist. Their business, their work, their brand all lies within their service to you. From start to finish you should and will feel more secure in your investment with this vendor.  You do in fact get what you pay for and in this case, professionalism is what you will look back on your wedding day and be glad you invested in.
D – Dress! Whether someone else has bought your dress for you or you have saved and bought it yourself. Even if it is a priceless token of extreme sentimental value, gifted to you from a special family member it is an intricate portion of your look. Completing and capturing that look is achieved with professional makeup. A professional MUA understands and is knowledgeable in skin tones, types, colors, sensitivities, and much more. Your polished look, natural look is our number one goal on your wedding day.
E– Enjoy! Enjoying your day! This should be your only focus on this day. You are the Belle of the Ball! The Queen of the Kingdom. It is your day! Walk down that aisle, through those doors, or down that staircase feeling and looking beyond description. Hire a professional makeup artist and allow them to provide you with a well-deserved time of pampering, release from stress, and your perfect wedding day look.