Southern Romance
Please share your engagement story and how you met?
Kayla and I both attended the same college, and for the 4 years she was there we never met. It wasn't until I graduated and went home for the summer that our paths would cross. Kayla had recently moved to California and was working on her master's degree at Loma Linda University. Oddly enough, we both had a mutual friend from Oakwood, who I had previously invited to my graduation dinner. As fate would have it, Kayla decided to "crash" the dinner at the last minute and spent the afternoon trying to remain unnoticed. Obviously she was unsuccessful, since she had my attention as soon as she walked through the door. I asked a few friends who the cute girl was, since I remembered seeing her around Oakwood's campus. I managed to keep my cool as she left the dinner early, having a feeling that I would see her again. Luckily I didn't have to wait too long since that very night we both ended up at the same birthday party. This time when I saw her, she looked even more beautiful than I had remembered, and I knew I had to make a move. We started talking, and like that, I was hooked.
For AJ's 25th birthday, I surprised him with a cruise to Bahamas, little did I know that I would be getting the biggest surprise of my life! It all started after dinner, AJ came to my cabin and handed me a piece of paper with a map of the ship on it titled "Kayla's Treasure Map". He had made a scavenger hunt and had hidden boxes all over the ship for me to find, and on the bottom of each box there would be a hint to the location of next box. I was so incredible, even the ships staff were involved and handed me the little treasure boxes whenI went to their stations. On the last box, the hint on the bottom read, "ahem, its kneeling right in front of you". I look up, and there he was on his knees with a gorgeous ring. Which of course was followed by the waterworks, I'm not even sure I actually said yes, I was crying so much!
Where was your first date? What did you do?
Our first date was actually on the day we met. After the party, AJ took me out to dinner. After that we were in constant contact.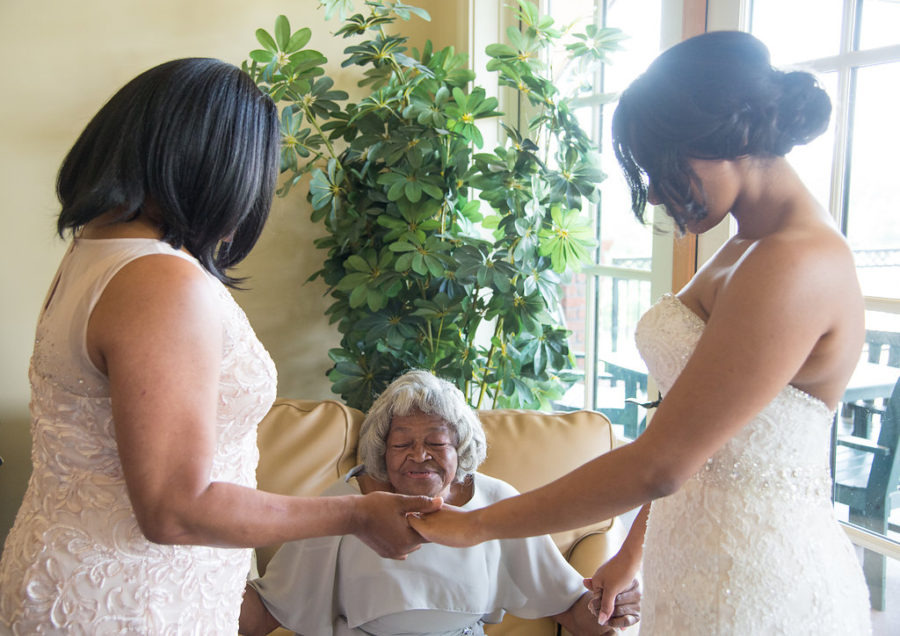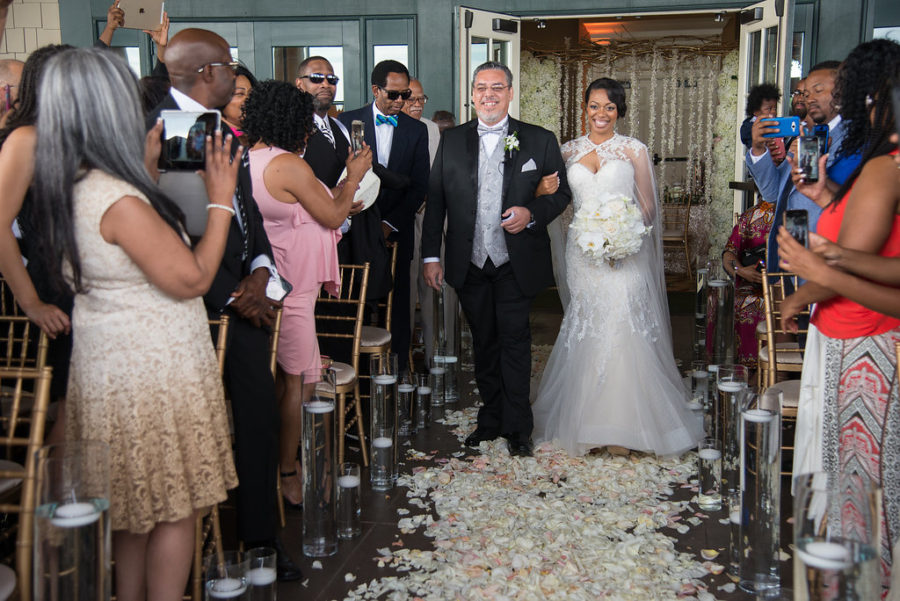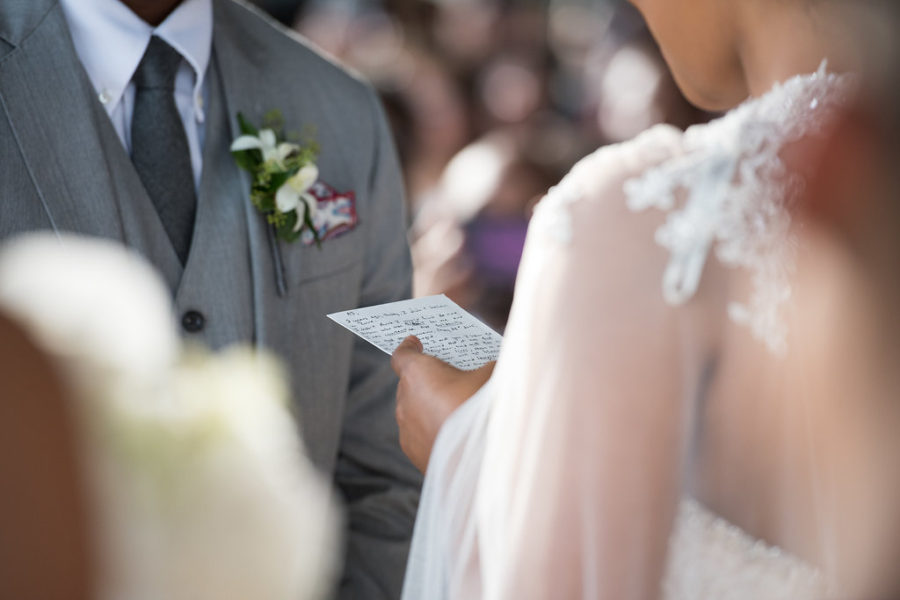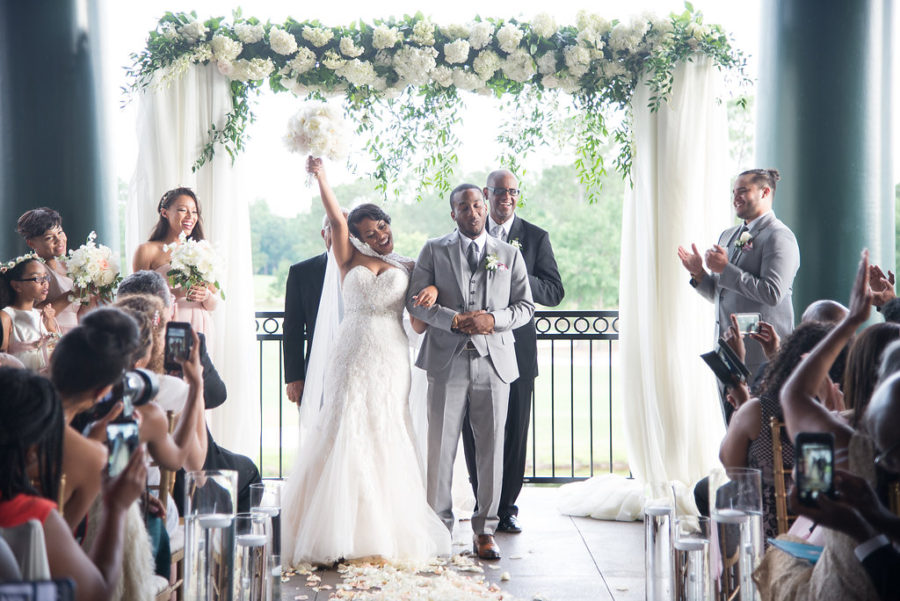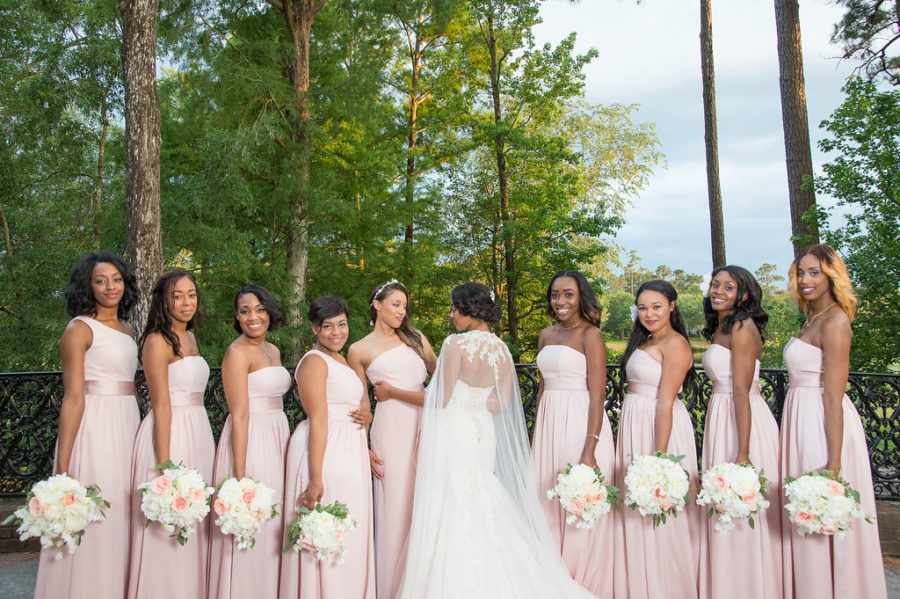 Tell us about your bridesmaids?
My 8 bridesmaids are my closest and dearest friends. Each one of them have been with me through thick and thin at all the different stages of my life. My Maid of Honor is my sister, who is also my best friend. We have been through everything together, I couldn't imagine my day without her!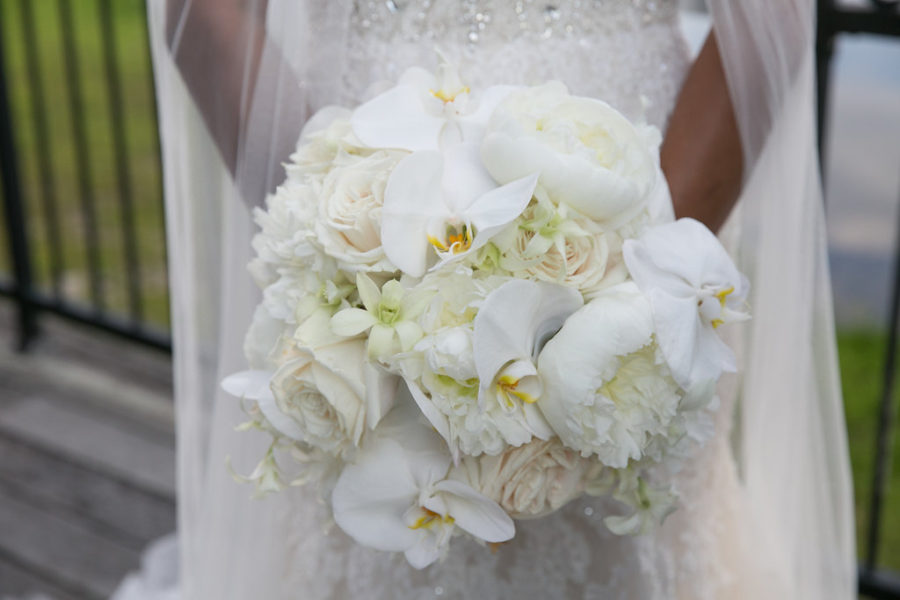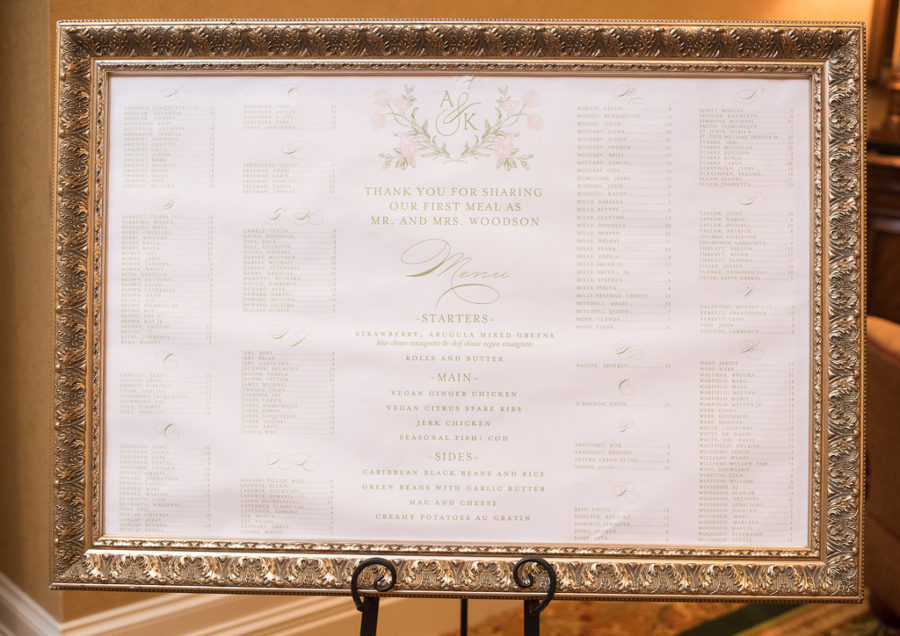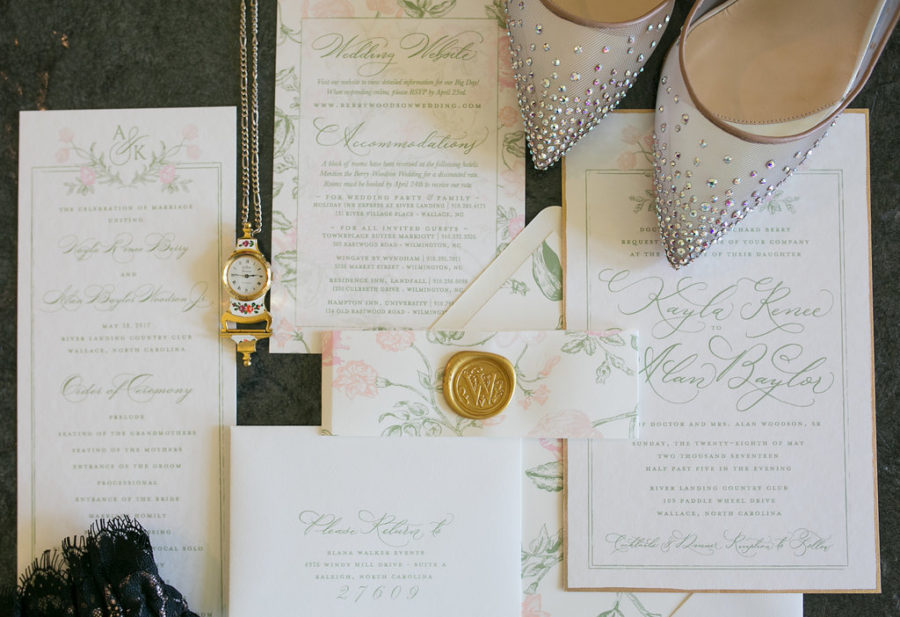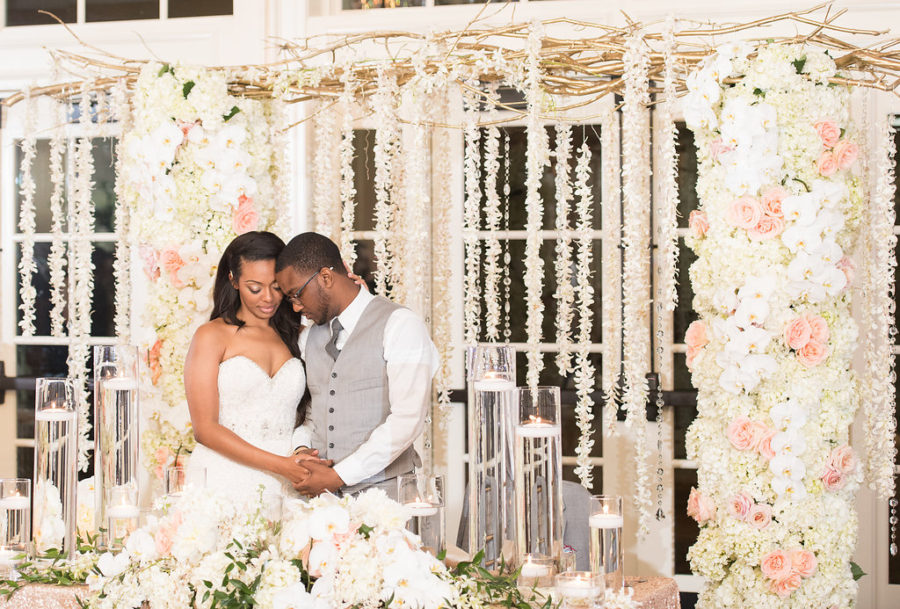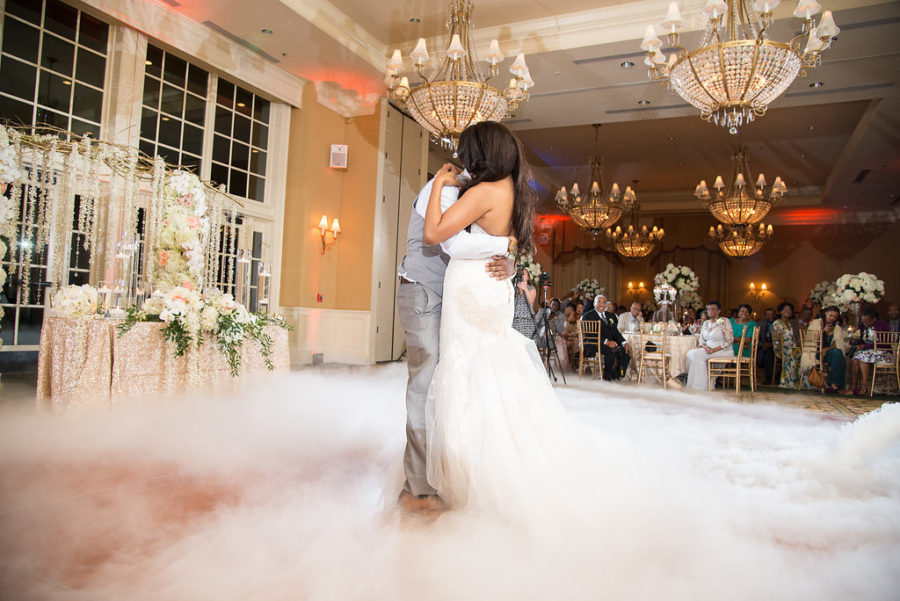 First dance song:
Thinking Out Loud – Ed Sheeran
What was your favorite part of your wedding day?
My Favorite part of the wedding was our first dance, after the excitement of the ceremony, it was so nice to relax, dance, and enjoy being a bride.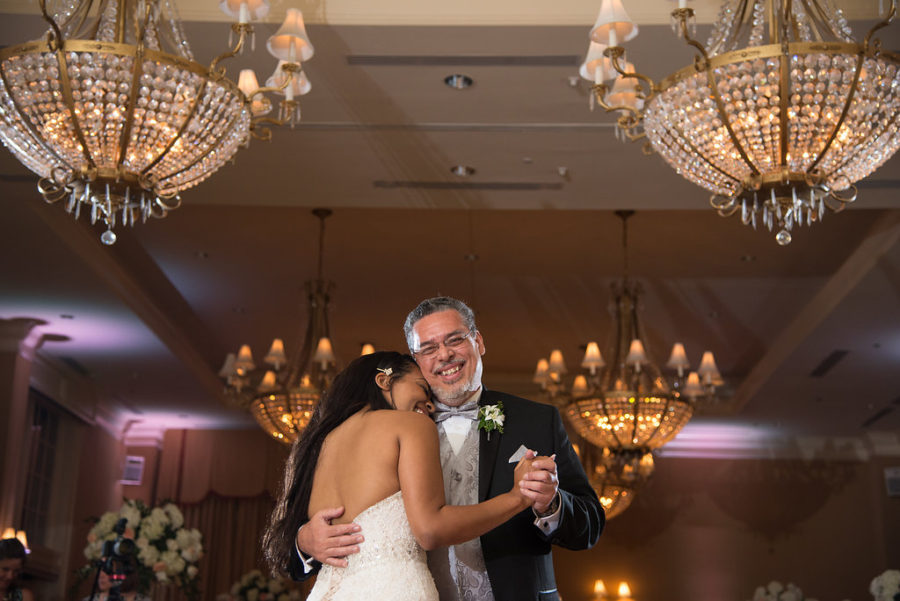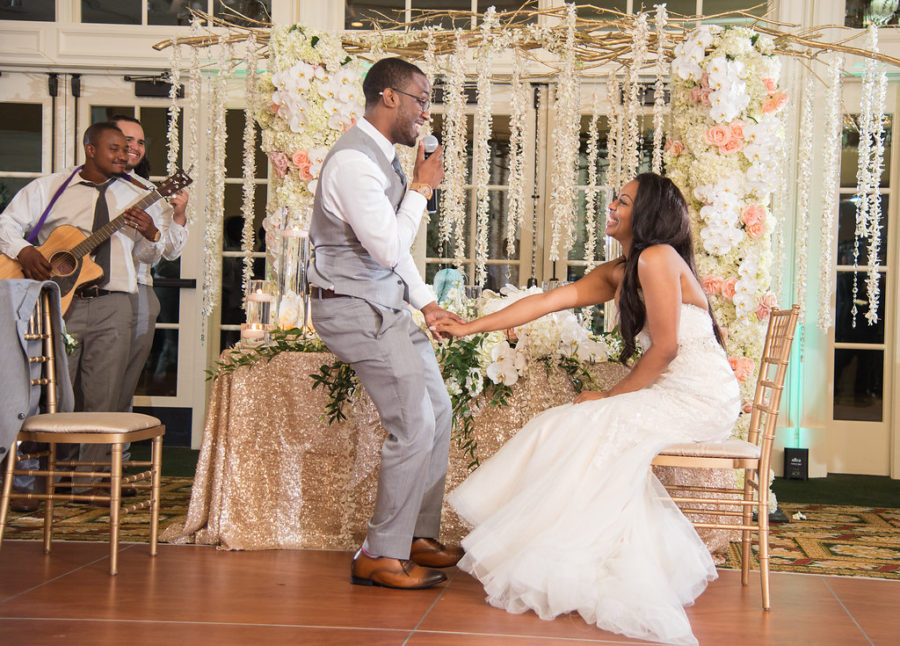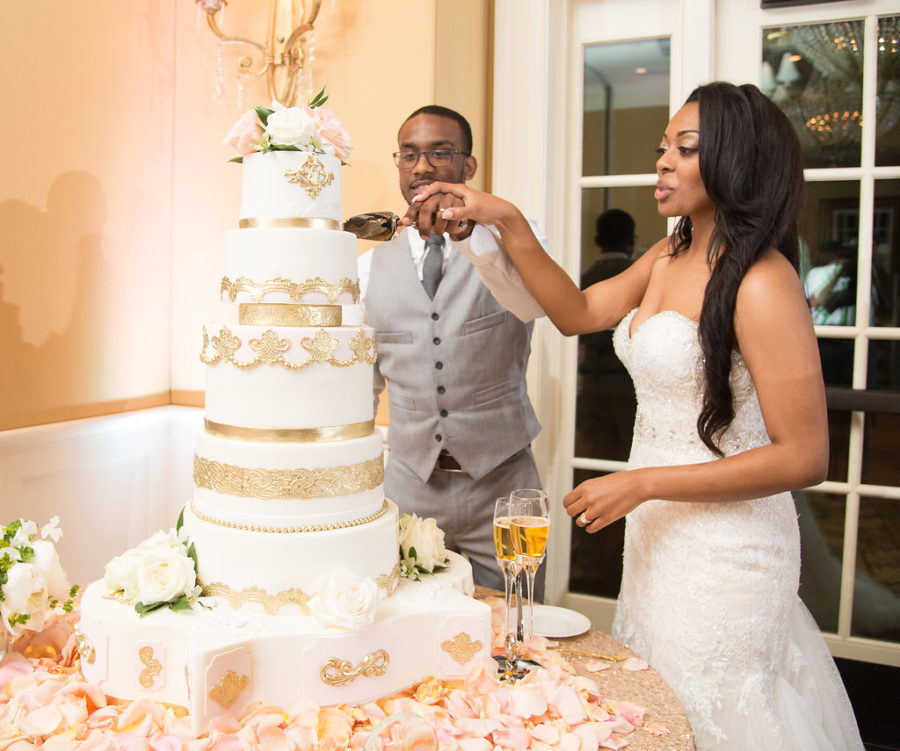 Our cake was a six tiered white cake with bush accents and gold details. I have a sweet tooth, and thankfully with so many layers I didn't have to choose one flavor. The flavors of each cake ranged from chocolate, to carrot, to raspberry/pineapple.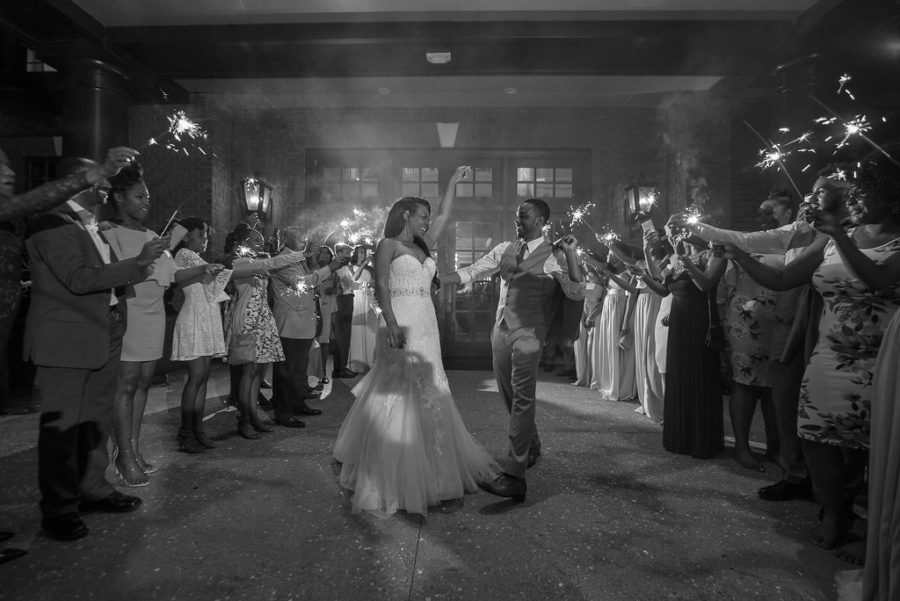 Any advice for future brides?
My advice to all brides would be to avoid taking the stress and worry of planning into your wedding day. Try to relax and enjoy the moments of your day. And if little things don't go completely according to plan, don't sweat it, at the end of the day, you will still be married you your best friend.
Any advice for future grooms?Let her do the planning, and remember that your wedding is really not about you. Just have fun and always make sure your future wife is happy. You will need the practice.
Contributing Vendors:
Venue: River Landing
Cake: One Belle Bakery
Photographer: Donnell Perry Photography
Videography: Twenty-One Films
Makeup: S. David Makeup
Planner: Elana Walker Events
Florist: Fresh Affairs
Officiants: Pastor Roy Brown & Pastor Mark Woodson
Ceremony Music: Blue Sands
Photo Booth: Kat's Photo Booth
DJ: DJ Harlem